VIRGINIA BEACH, Va. — A newly published biennial report by the Chesapeake Bay Foundation reveals the overall health of the region's watershed has an overall score of "D+."
That's the same as the last published one, from 2020.
The "State of the Bay" score has progressively dropped since 2016, when it was scored 34. (For context, the D+ grade was a 32.)
The report is based on 13 environmental factors, ranging from pollution obstacles to chemical imbalances to habitat issues.
It highlights the ongoing challenge to respond to agricultural pollution, as well as citing "inconsistent enforcement by government agencies, new development, and climate change" as obstacles toward Bay improvement.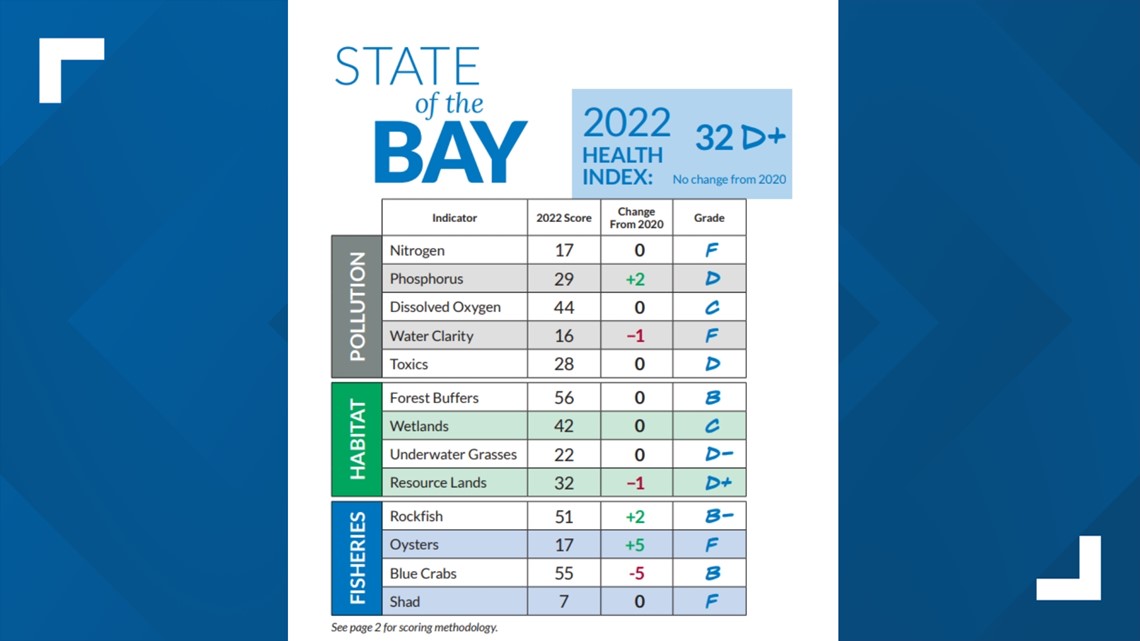 Seven of the factors did not change (from a numerical standpoint) from the 2020 report, while three improved and three others declined.
The phosphorus metric improved by two points over the two-year period, but still maintains a "D" grade, while nitrogen did not improve and came in at an "F."
Chris Moore, a senior scientist with the Chesapeake Bay Foundation spoke to 13News Now on Thursday.
"Fertilizers are nutrients. In the right amount, they're a good thing for things like farming... but excess amounts can cause water quality problems," Moore said. "Here in a place like Hampton Roads, stormwater is a big problem and that's increasing."
Fisheries are another key factor in the new report, which saw improvement in some metrics like oyster restoration, but a decline in blue crab health.
Despite that improvement, the oysters metric still grades as an "F."
"It's good news and bad news: we're still at a fraction of what we've historically had in the watershed. We're making a long of success, but there's a long way we need to go, and can go."
A virtual press conference Thursday revealed the 2023 Virginia General Assembly session will be a major focus in petitioning to reverse and better these conditions.