NORFOLK, Va. — Yesterday's severe weather brought up some good questions from viewers about what the various outlooks that we talk about really mean. Some people thought the weather wasn't as bad as it should have been given the warnings. Others thought it was worse than they were expecting. So, who was right? Let's find out!
When severe weather is expected we talk about the "Convective Categorical Outlook". There are 5 levels that are possible within one of these outlooks. Level 1 is considered "marginal". Level 2 is "slight". Level 3 is "enhanced". Level 4 is "moderate". Level 5 is "high". But what does that mean? Even professional meteorologists struggle with how to explain it to our audience. One way to try to convey the chances for seeing severe weather is by labelling the chances as follows: level 1 basically means severe weather is "possible". Level 2 means "isolated" areas of severe weather are expected. Level 3 means "scattered" areas of severe weather should occur. Level 4 means "numerous" areas of damage are likely". Level 5 is reserved for the worst of outbreaks and means very strong tornadoes will be frequent within a region.

Here is a screenshot of Tim yesterday labeling our levels as "isolated" or "scattered" in terms of the severe weather chances.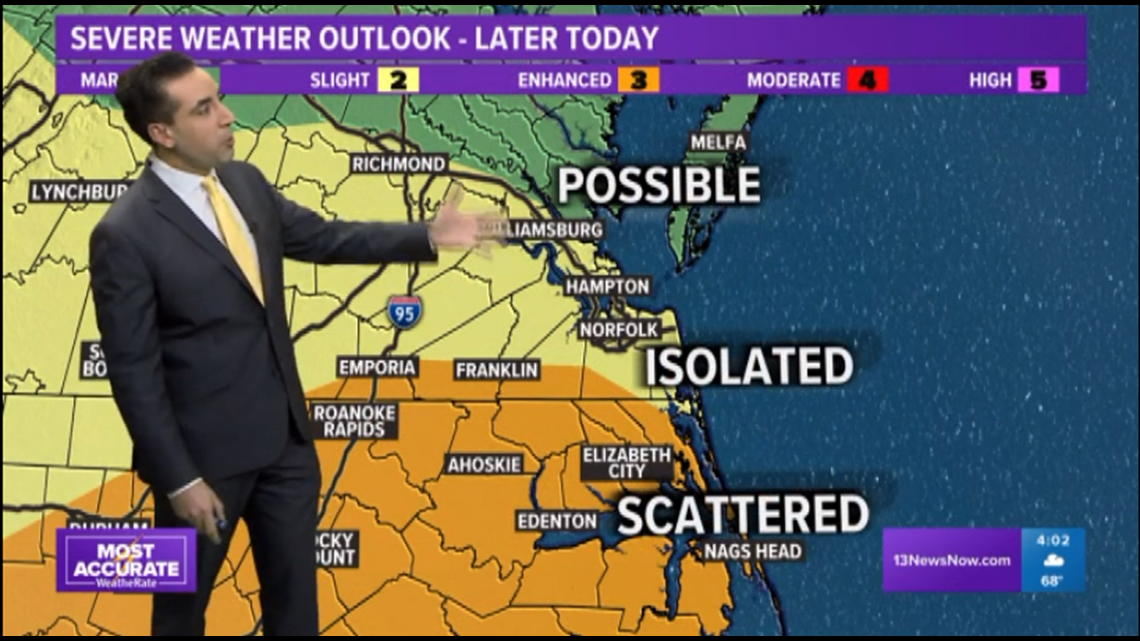 Of course, not all severe weather is created equal. Sometimes hail is the primary concern. Other times it is straight-line winds, and still other times it is tornadoes. To help convey the odds of tornadoes we often use percentages.
With yesterday's storms there was a 5% chance of a tornado within 25 miles of any given point for much of the area, and a 10% chance within 25 miles from NC up into the southern border cities and counties in VA.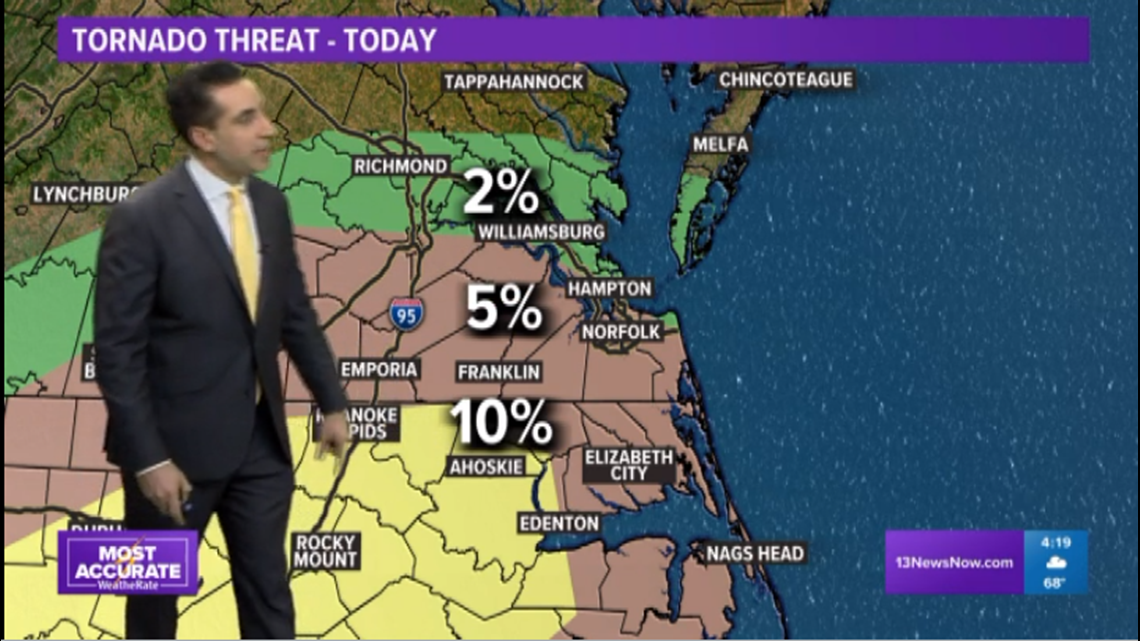 If you think about it, a 5% chance of a tornado within 25 miles of your house or workplace is pretty low. Even 10% is low when you consider individual odds. People who looked at those chances and thought "It's highly unlikely I will get a tornado within 25 miles of my house, which means the odds of it hitting very close to me are REALLY low" were correct and might have been surprised if they lived in, or near, Isle of Wight where there was a tornado and damage. On the other hand, how about all those people that heard the talk of possible severe weather and tornadoes and then didn't get it where they were? Some of them have expressed that they thought they were getting severe weather and were surprised when they didn't.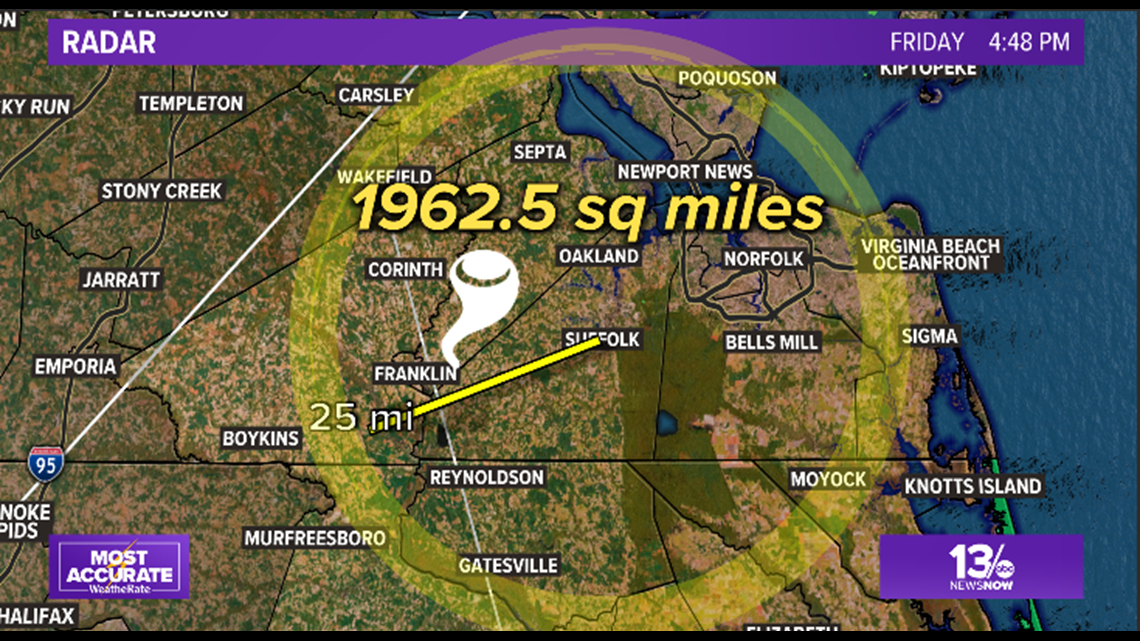 The map shown above shows 25 miles in all directions from downtown Suffolk. That 25 mile circle encompasses 1962.5 square miles! So, within that almost 2 thousand square mile area there was a 5-10% chance of a tornado.
If you look at the entirety of the region, most places ended up without a tornado which matches the low odds of one in any given spot. If, however, you imagine that if the odds are low for any one spot, that they are significantly higher for somewhere in the region to get one. What that exact number is I can't say, but it might be 20-30%. So, the next time we are in a level 2 or 3 outlook just realize that overall the odds are half decent that somewhere in our huge viewing area will get severe weather, but that the chances of it hitting where you are remain pretty low.