NORFOLK, Va. — Guam is bracing to take a hit from Typhoon Mawar, a storm that is expected to bring destructive winds and surge to the Pacific U.S. island.
The island is about 212 square miles in size, less than half the size of Virginia Beach. There are roughly 170,000 people with most living on or near the coast. The island has an Army National Guard Base, Anderson Air Force Base, and Guam Naval Base at Santa Rita.
The National Guard was called on to help evacuate residents living on or near the coast.
The storm will likely make landfall in this evening (Hampton Roads time).
One positive for the timing on Guam: While conditions will deteriorate as it tracks northward the worst of the storm will likely impact the island during the daytime.
Very heavy rain, incredibly powerful winds, and devastating storm surge are all expected if this Typhoon hits or comes close to the island.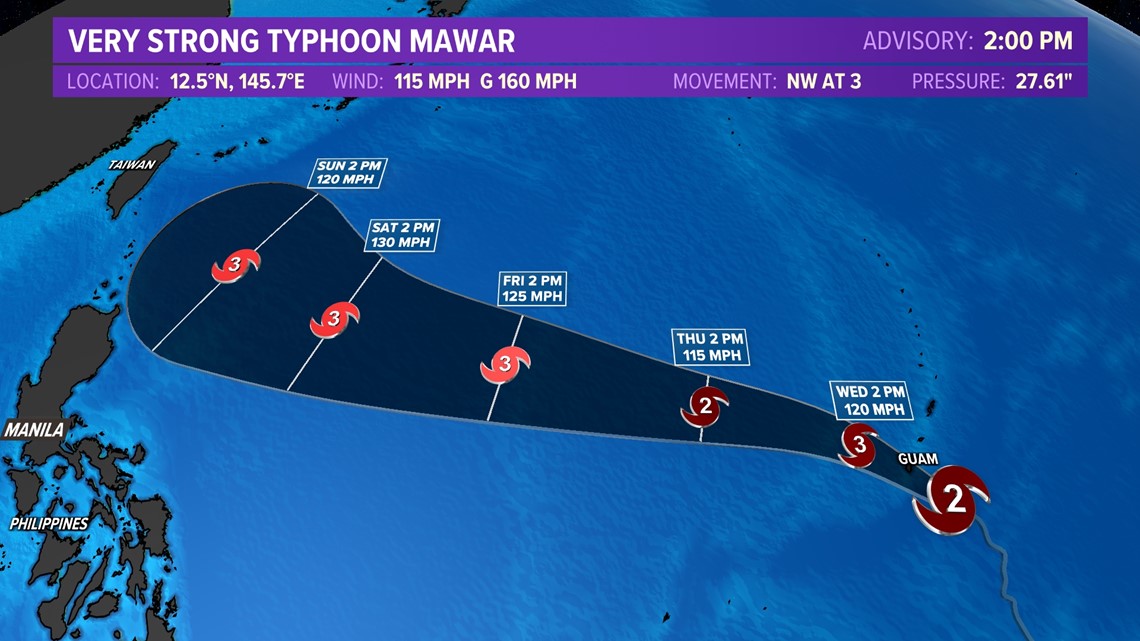 Powerful typhoons and super typhoons are nothing new to the island, but it's been a long time since they've dealt with a direct blow from a storm of this magnitude.
Patrick Doll, the lead meteorologist at the NWS in Guam, told the Associated Press that the island takes a Category 4 or 5 hit every five to seven years, adding that "Mother Nature has spared us as of late" since the last direct hit was in 2002.
"So, we are way overdue," Doll said.