NORFOLK, Va. — As the remnants of Ian combine with a cold front, a new storm is forming off the Mid Atlantic coast that will affect us for the next few days.
The entire region, from the Eastern Shore to the Outer Banks, will feel the effects of the nor'easter. We could face the highest flooding Hampton Roads has seen in years.
What is the latest with the remnants of Ian?
The remnants of Ian have been absorbed by an upper-level low spinning off the Virginia Capes. That energy will energize a strengthening coastal low. Winds and rain will increase for coastal Virginia and North Carolina Monday.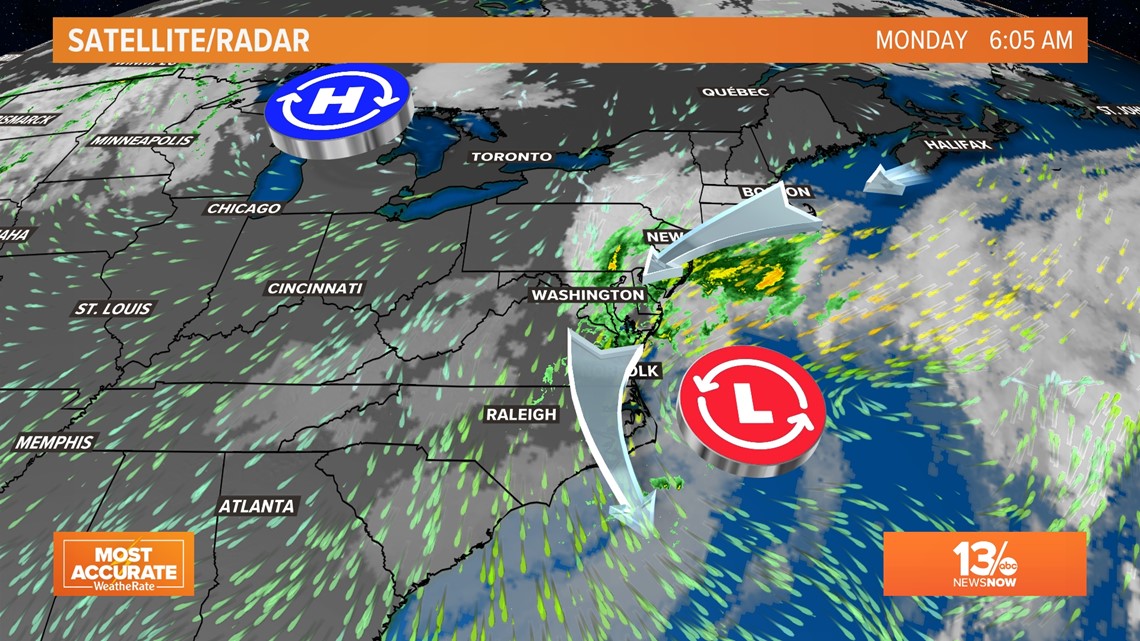 How will this coastal low impact Virginia?
Wind and rain will increase as the developing low strengthens off the Virginia coastline.
We will see occasional rain on Monday with the highest rainfall totals and heaviest rain along the coast and Eastern Shore. Rainfall amounts will range from 1 to 3" on the Eastern Shore to about a half inch farther inland, closer to I-95.
Look for wind gusts to reach 40-50 mph near the coast through Monday afternoon.
Those winds will drive the tides up again, likely quite a bit higher than what we saw on Friday. Right now, the forecast is for Monday afternoon to reach "major" flooding, which starts at 6.5 feet above mean lower low water at Sewell's Point. Major flooding is also forecast for Yorktown and Duck, NC, as well as other areas that are subject to flooding from prolonged north and northeast winds.