VIRGINIA BEACH, Va. — People rushed online to get Something In The Water 2020 presale passes on the festival's website on Saturday.
Right away people had problems getting tickets online with some tweeting their frustrations on Twitter.
Online, Tier 1 and 2 presale tickets sold out fast. The festival website urged users on Saturday during the presale that they should refresh the page and enter their Loyalty code or VA zip code to purchase tickets.
Organizers sold passes from noon to 5 p.m. at the Veterans United Home Loans Amphitheater at Virginia Beach box office.
A long line with hundreds of people had already formed early Saturday morning.
"I actually camped out. I got in line around 6 a.m.," said Gabrielle Jones.
Vouchers were being given to people in line for the $150 3-day general admission passes.
"The line is crazy. I wasn't even expecting this many people to come out. I'm glad I did come. The line is about a mile long," Jones said.
At 3 p.m. officials stopped the line at the amphitheater. Yasmeen Cooper said that's one reason she showed up before 5 a.m.
"Because I wanted to guarantee that I got a ticket. I wanted to guarantee to pay without those fees. I wanted it all. I was number 8," Cooper said.
"I was so excited. I have my chair. I was freezing. I had to start taking clothes off, for layers because I was warm, but I did it."
Something In The Water organizers have not announced the festival lineup, but fans say it doesn't matter.
"I trust Pharrell. He won't let us down," Butler said.
'SITW' returns'
Pharrell Williams announced on Monday that the 'Something in the Water' festival is returning for a second year in Virginia Beach.
It's a multi-day music festival and cultural experience on the beach in his hometown of Virginia Beach.
Musicians will take the stage from Friday, April 24 to Sunday, April 26. However, for the second year, Pharrell has decided to expand the festival by bringing the brightest minds from the culinary, technology, environmental sustainability, health, wellness, and media world from Monday, April 20, through Thursday, April 23.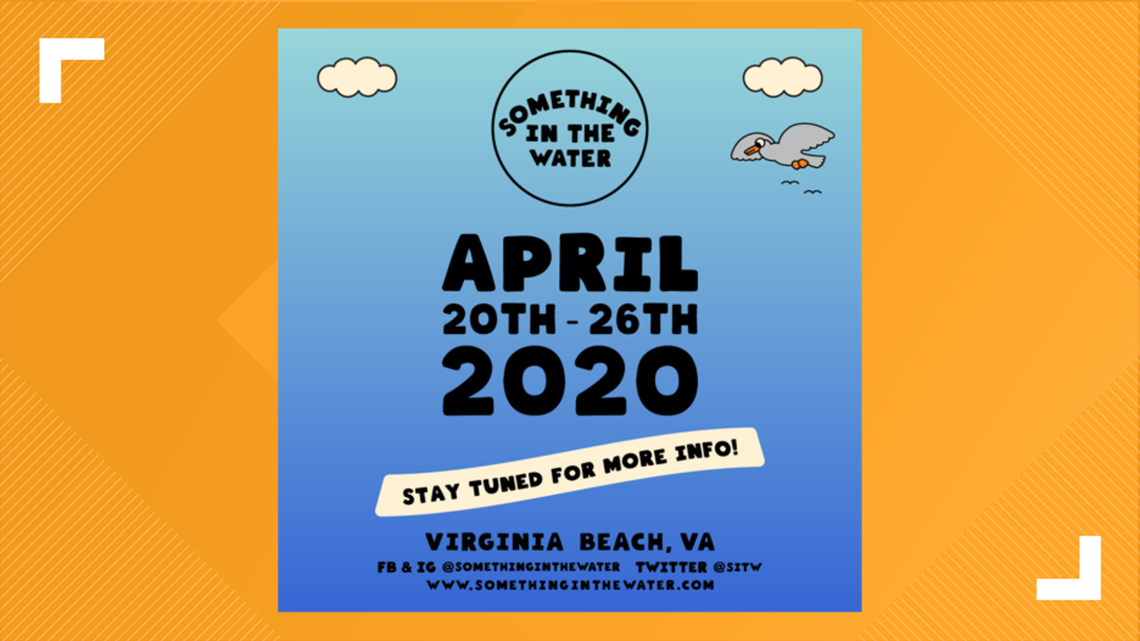 The festival's mission is to unite the community and celebrate the diversity and magic of Virginia Beach. It's an opportunity to bring the best of what Pharrell has encountered around the world back to his hometown.
The 2020 'Something in the Water' festival is being produced by Live Nation and Redrock Entertainment Services.