VIRGINIA BEACH, Va. — Body-worn cameras have increasingly become part of the public expectation when it comes to law enforcement.
Officers with Virginia Beach Police Department already have the devices. Now, Virginia Beach Sheriff Ken Stolle wants all his deputies to have one, too.
City council members will soon decide whether to fund the program.
"These deputies wear a uniform from when they get up in the morning to when they go home, we need this type of device," said Undersheriff Brian Struzzieri with the Virginia Beach Sheriff's Office (VBSO).
Struzzieri promoted it as a tool for transparency, accountability and protection for staff.
The program council members are considering includes software licensing and tasers for deputies. Deputies are currently using about 10 cameras and 10 tasers as part of a pilot phase, according to city officials during the Tuesday presentation.
City Councilman Rocky Holcomb, who also serves as a VBSO chief deputy, said the department is ready for the additional technology.
"We don't feel like that we can allow law enforcement officers to go into the community without this piece of forensic evidence. It's very important. It's just as important to me, as the ICRB [independent citizen review board], is making sure we have this video," said Holcomb.
"The public, now, it's not a secret, they've kind of lost some of the trust they used to have in law enforcement," said resident Dustin Weekley, who considers the cameras an asset.
"Having body cameras and stuff will be a very good thing to be able to prove one way or another what really happened," Weekley added.
Deputies are also tasked with supporting Virginia Beach police at the Oceanfront between February and October, presentation slides stated.
"It's expected now," said Councilwoman Barbara Henley, when discussing body cameras for law enforcement.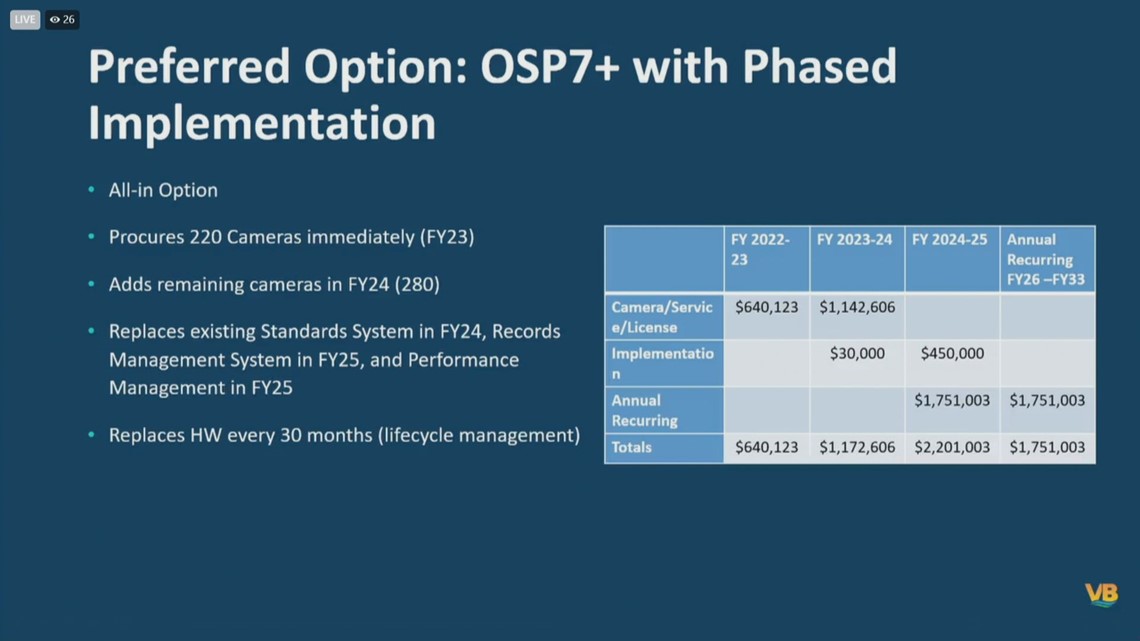 Should council members approve, the sheriff's office would get 220 cameras right away. The price tag is roughly $640,000.
The proposal, if passed, would also phase in 280 more cameras as part of next year's budget, costing north of $1 million.
In future years, the annual fee is estimated at approximately $2 million.
"Transparency is never a burden, and its cost to the taxpayer is just as valid here as it is when observing actions of other officials in a government capacity," resident Conrad Schesventer partly messaged 13News Now.
Schesventer also expressed merely adding the technology won't perfect the system; however, "it's a goal toward accountability and it joins with Virginia Beach adding a stronger civilian review board than in years past."
City council members are expected to take a vote on the package and funding plan on March 21.