13News Now Hurricane Guide 2023
Your resource for preparing ahead of the storm.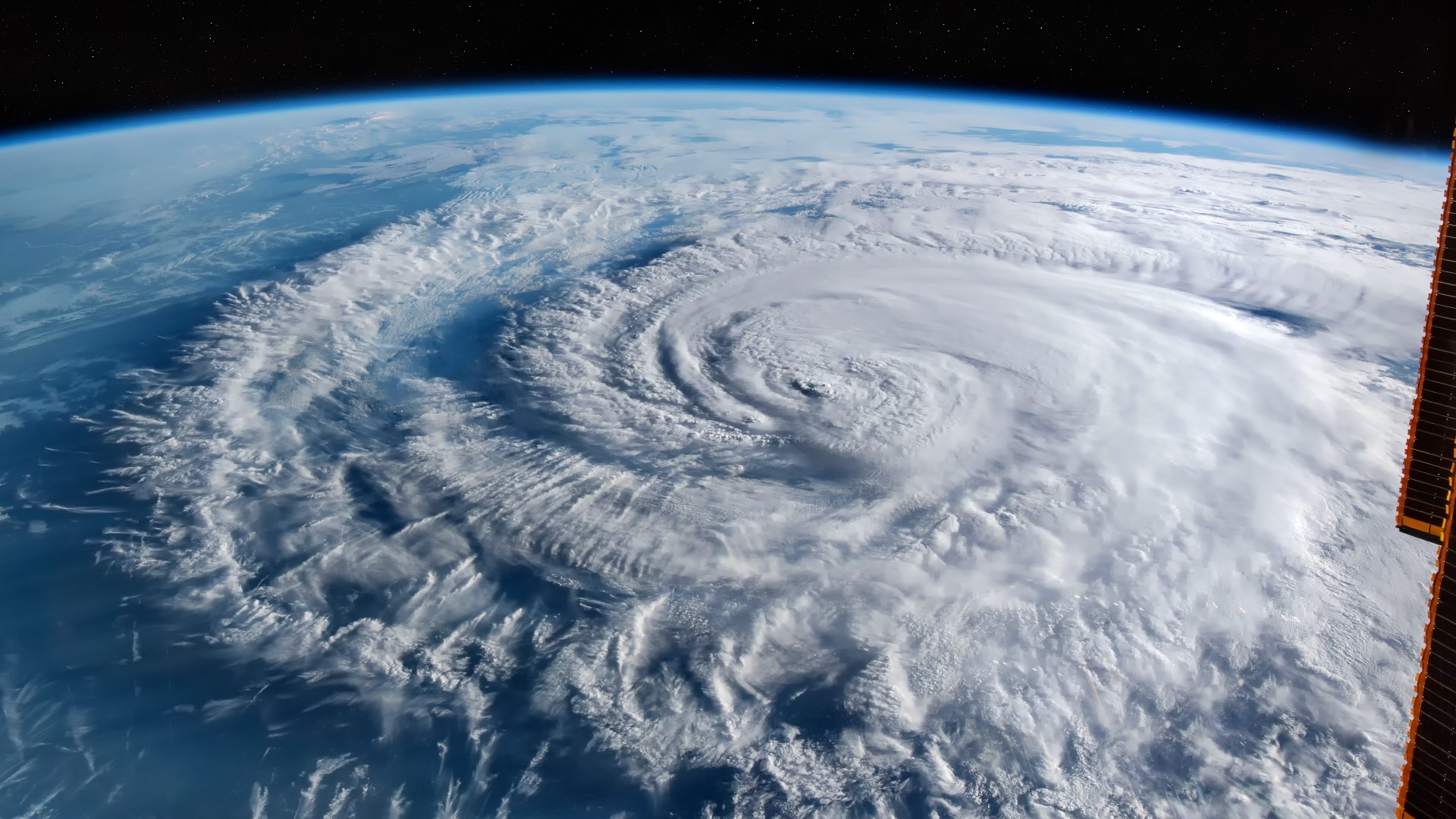 Hurricane season begins on June 1, so now is a good time to make sure you're prepared for any possible tropical system if you haven't already done so, and to have a plan in place to keep you and your family safe!
Meteorologists say a possible "El Nino" could be in play for this summer and fall.
El Nino conditions are characterized by warmer than average ocean water in the tropical east Pacific, off the west coast of Mexico. This has global impacts on the weather because El Nino also contributes to below-average sea surface temperatures in the tropical Atlantic combined with elevated levels of wind shear.
Both conditions tend to hamper tropical development in the Atlantic Ocean.
As a result, the well-respected team at Colorado State University's Tropical Weather and Climate Research Division is predicting a slightly below-average season because of an El Nino's expected formation around July: 13 named storms (tropical storm or stronger) with six of them reaching hurricane status. Of those six, two are forecast to become major hurricanes -- storms with wind speeds of 111 mph or higher.
The meteorologists with the National Oceanic and Atmospheric Administration (NOAA) issued its seasonal hurricane forecast on May 25. The federal agency announced its forecast of 12 to 17 named storms, five to nine becoming hurricanes and between one and four powering into major hurricanes with winds greater than 110 mph.

An "average" Atlantic hurricane season has 14 tropical storms (sustained winds of 39 – 73 mph), of which seven become hurricanes (sustained winds of at least 74 mph) with three major hurricanes.
Whether or not we see an active hurricane season, now is the time to prepare, get the supplies you need, and make sure your family knows exactly what to do in case an evacuation order is issued.



Hurricane Plan Checklist
:
Check evacuation maps for your city or county and know what zone you are in.
Know where a shelter or other safe places are located in case you need to leave your home.
Be sure to have plenty of water
You should have a gallon of water per family member per day
Stock up on non-perishable foods
Important supplies to have during hurricane season:
Flashlight with extra batteries
Battery operated radio
Fire extinguisher
Cash in case power is out and ATMs are not available
Make sure to have a full supply of your prescriptions
Have a communication plan:
Have a plan set up for you and your family.
Complete a contact card for all family members with names, numbers, and email addresses.
Prepare a first aid kit filled with:
Bandages, antiseptic wipes, instant ice pack, adhesive tape, and scissors
Weather Alerts, Emergency Apps
:
Make sure you download the 13News Now App for the latest news emergency information.
If the power or cable goes out, you'll still be able to connect online. Download the 13News Now App for live streaming video, updated weather forecasts, and reports from our field crews. Be sure to check the county where you live and work, so you'll get alerts in your area. You can also get alerts for other locations.
You'll want to make sure you have the latest emergency apps and contacts on your phone in the event of a hurricane or other natural disaster. This will make it easier to get the information you need.
Emergency Contacts
:
Program all your emergency contact numbers and email addresses into your mobile phone. It's important to include the police department, fire station and hospital, as well as family members.
NC Emergency Management: 24-Hour Operations Center - 919-733-3300
Dominion Energy: Sign up for text alerts by texting DOM to "898366"
FEMA's helpline: 1-800-621-FEMA
TTY: 1-800-462-7585
VRS: 1-800-621-3362
Red Cross's helpline: 1-800-733-2727
CONTACTING FAMILY AFTER A HURRICANE
If you need to reach your family, use your family communications plan or contact the American Red Cross at 1-800-RED-CROSS/1-800-733-2767 or visit the ARC Safe and Well website.
If you cannot return home and need shelter, text SHELTER + your ZIP code to 43362 (4FEMA) to find the nearest shelter in your area (example: shelter 12345).
Share your pics and videos
:
Join the 13News Now Team: When it's safe (and ONLY when it's safe!), your reports help us see what's happening in every corner of our coverage area. Text photos and videos to us at 757.628.6200. You also can send photos and videos to us through email using this address: shareit@13newsnow.com.
Evacuation Zones
:
Virginia has a new plan for dealing with hurricane evacuations that uses a zoned approach to prioritize getting the most vulnerable residents away from major flooding and reducing unnecessary travel.
It's the most significant change in decades to the state's evacuation system, which computer simulations showed was unrealistic.
Jim Redick, Norfolk's Emergency Preparedness and Response director, says the new plan should help prevent over-evacuation.
"If we don't over-evacuate the area, then we'll just get those who really need to go out of the area. But it's still gonna be a cantankerous issue when you have this much population, and this little infrastructure. It's going to be a challenge," said Redick.
The new plan breaks down coastal Virginia into four zones designated A through D. In the event of a hurricane, residents in certain zones may be directed to evacuate, while others could be asked to shelter in place. The state says the plan will reduce traffic, promote highway safety and lessen overcrowding at storm shelters.
Residents can visit a website, call 2-1-1 or contact their local emergency managers to find out their zone.
Hurricane-ready household hacks
:
Preparing for a hurricane can be stressful, but it doesn't have to be difficult.
Here are some hurricane hacks you might've never thought of–using items you've likely got at home–to help make sure you're prepared.
-Turn your washing machine into a cooler: Fill it up with ice and close the lid to keep items cool. And don't worry about what to do when the ice begins to melt, the machine is designed to drain water.
-Your dishwasher can be a waterproof safe: It's sealed to keep water in, so it should do just fine keeping it out too. Just make sure all your dishes are taken out before loading up important documents or belongings.
-Water bottles and flashlights make great lanterns: Instead of purchasing an expensive lantern, try taping a flashlight to the bottom of a water bottle to illuminate a room. For a bigger glow, try a larger water jug with a headlight strapped onto it.
-Aluminum dish pans can keep your furniture out of water: It might do much in major flooding, but if water begins to pool on your floor, placing those disposable aluminum cooking pans around the furniture legs can help minimize water damage.
Some other tips to keep in mind:
-Plastic bins and bags are your best friend: They are watertight and can store a variety of items you either want to keep safe or cool.
-Make extra ice ahead of time: Freeze it in bags, freeze it in bottles, use it when the power goes out, you'll likely need it.
-Fill up the tub with water: You might not need it for drinking, but it will come in handy if you're looking for water for cleaning, boiling or flushing!
-Take pictures before the storm: It'll be a big help for insurance purposes, in case you have to make a claim because of damage. All you need is your cell phone. The best thing to do is to walk through each room slowly, narrating what the camera is looking at and take a visual inventory of things covered by your insurance policy. Make sure to send that video to someone or upload it to the cloud, so you have it when you need it.
Storm Explainers
:
Next, if you're trying to make sense of some of the terminology for tropical weather:
It's not just the strong winds and heavy rain from a tropical system that you need to be concerned about. In fact, the most deadly part of a hurricane is the storm surge.
It's not just the normal high tide that varies from day to day and place to place. It's the surge in advance of a hurricane, the abnormal rise in water as a tropical storm is approaching.
So we have the strong winds that push the water towards the shore. Whether it's a tropical storm or a hurricane. And depending on the continental shelf, the slope of the land under the water's surface, and the shape of the coastline, that can directly impact the significance of the storm surge.
But whatever it is, 3 feet, 6 feet, or more, water has a lot of force behind it. In fact, one cubic yard of water, that's 3 feet by 3 feet, and 3 feet deep, weighs almost a ton! 2000 lbs! And that's the force pushing the water towards the land.
If that's not enough, all of that water coming ashore has floating debris in it. Flotsam and jetsam, trees, boats, and cars. And all this debris acts like battering rams. With everything rushing ashore that battering ram is going to eliminate anything in its path.
Storm surge is something you need to pay very close attention to.
Saffir-Simpson Hurricane Scale: How to measure a tropical cyclone's strength
The easiest and most straightforward way to measure a hurricane's strength is to use the Saffir-Simpson scale.
Divided into five categories, the scale designates each hurricane based on its sustained wind speed and estimates what kind of property damage could occur. Category 1, for example, is considered "very dangerous" while a Category 5 storm is "catastrophic."
Category 1 - 74-95 mph sustained winds: Very dangerous winds will produce some damage
Category 2 - 96-110 mph sustained winds: Extremely dangerous winds will cause extensive damage
Category 3 - 111-129 mph sustained winds: Devastating damage will occur
Category 4 - 130-156 mph sustained winds: Catastrophic damage will occur
Category 5 - 157 mph or higher sustained winds: Catastrophic damage will occur ("a high percentage of framed homes will be destroyed)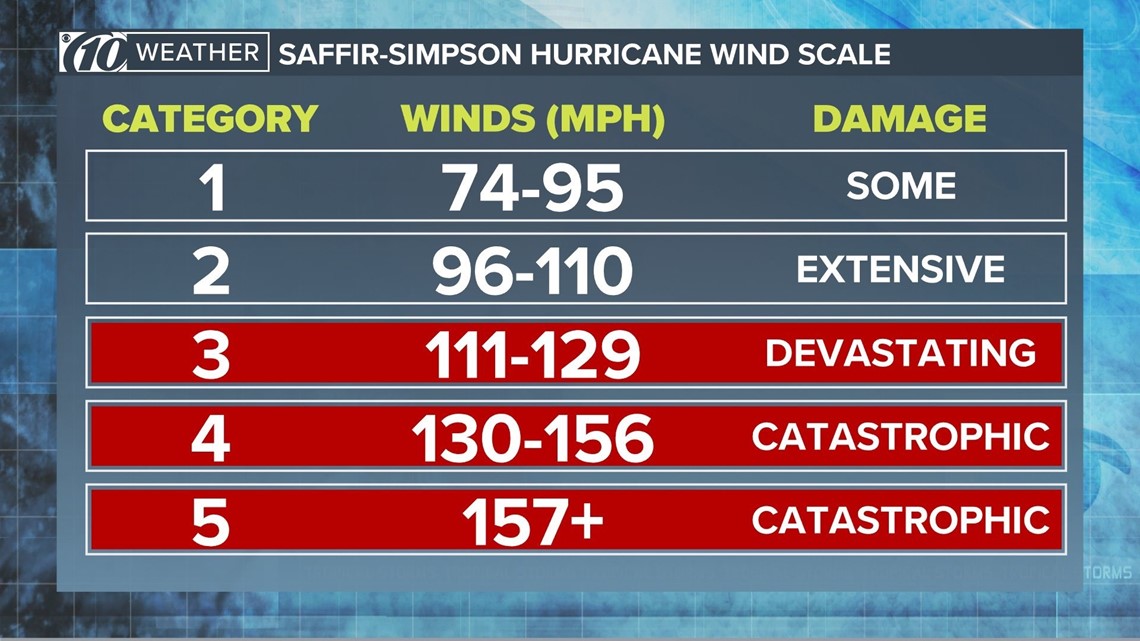 A tropical cyclone that hasn't reached hurricane strength is considered a tropical storm (39-73 mph wind) or a weaker tropical depression (less than 38 mph).
Despite what you might see on social media, there is no such thing as a Category 6 storm nor is there any consideration to create such a category. The bottom line is a Category 5 storm, whether at 157 mph or Hurricane Allen's 190-mph wind (1980 season), it likely will completely destroy your home anyway.
How do hurricanes get their names?
:
Matthew, Harvey, Katrina: three random names that incite memories of a deadly, destructive, powerful force of nature.
So, how did these hurricanes get their names?
When storms first were named, they were named arbitrarily, experts said. For example, if a storm ripped off the mast of a boat named Antje, the hurricane would become known as Hurricane Antje. Eventually, meteorologists wanted a more organized naming system.
Today, storm naming is determined by an international committee of the United Nations World Meteorological Organization (WMO). The group meets annually to discuss all things hurricane-related.
According to the World Meteorological Organization, Atlantic tropical storms have been named from a list that originated from the National Hurricane Center in 1953, which is now kept up by the WMO.
"The original name lists featured only women's names," the WMO said. "In 1979, men's names were introduced and they alternate with the women's names. Six lists are used in rotation."
So for example, the 2017 list will be used again in 2023.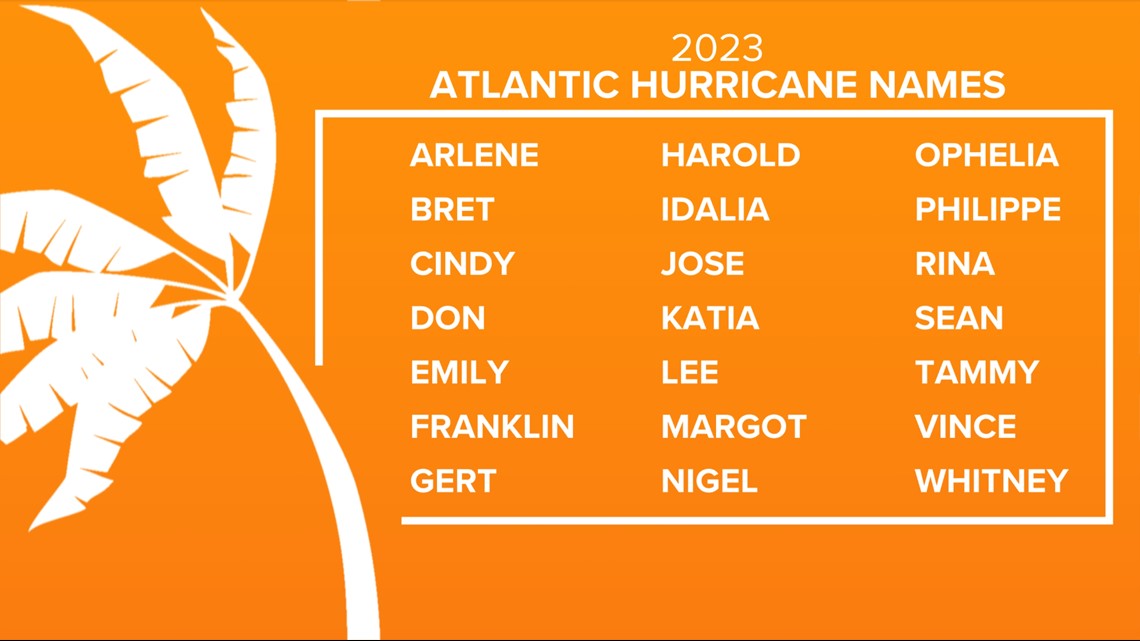 The organization said the only time there is a change in the list is if a storm is extremely deadly or costly. The WMO said they retire the name due to it being inappropriate for reasons of sensitivity.
"If that occurs, then at an annual meeting by the WMO Tropical Cyclone Committees (called primarily to discuss many other issues) the offending name is stricken from the list and another name is selected to replace it. Infamous storm names such as Haiyan (the Philippines, 2013), Sandy (USA, 2012), Katrina (USA, 2005), Mitch (Honduras, 1998) and Tracy (Darwin, 1974) are examples for this."
WTSP 10 News, WFMY News 2, and The Associated Press contributed to this report.