HAMPTON, Va. — Down the coast of Buckroe Beach and Fort Monroe, in the mouth of the Chesapeake Bay, the everyday boater or person isn't allowed too close to the permanently closed historic Fort Wool.
As you near the edge of the Hampton Roads Bridge-Tunnel (HRBT), you can hear the cars rushing by one by one during the daily commute. But there's another sound you simply cannot ignore.
Thousands upon thousands of birds almost drown out the traffic noise adjacent to the historic Fort Wool on Rip Raps Island. This area on Fort Wool is a newer home for this colony of seabirds.
Up until 2020, approximately 25,000 birds called the South Island, one of two artificial islands that anchor the HRBT's underwater tunnels, home. That is, until the birds returned from the south the following spring only to find their nesting areas paved over from the bridge expansion project.
The birds lost their home, their safe summer haven.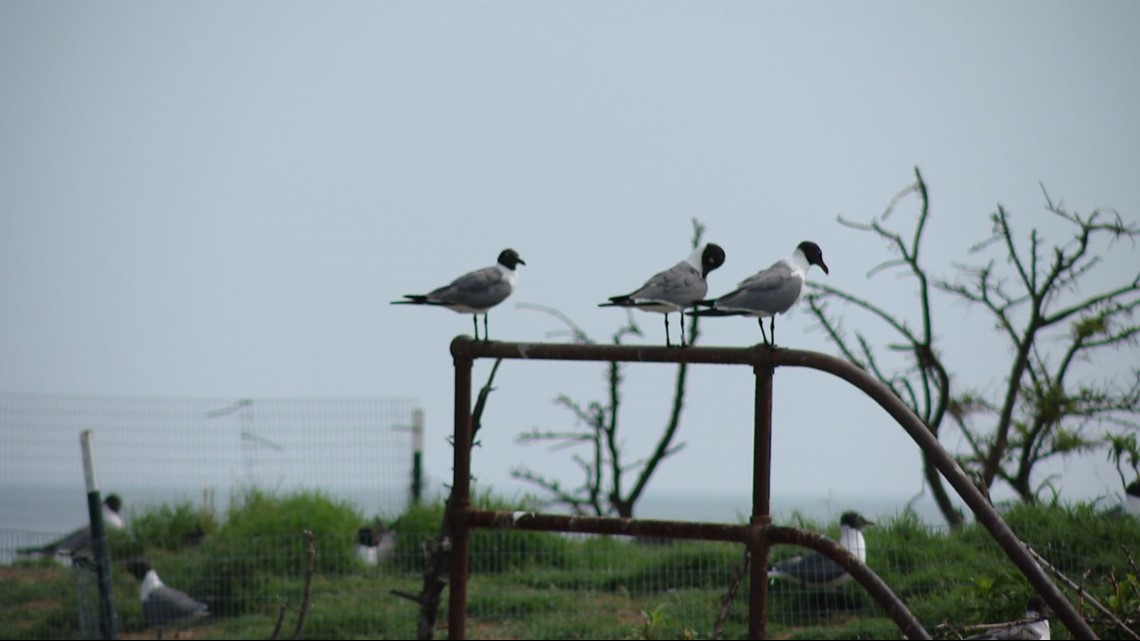 Since 2013, more than 80% of royal tern and sandwich tern nesting in Virginia occurred on South Island, according to Virginia DWR's website. The location was ideal for them. It was isolated from mainland-based predators and had great access to waters with plentiful fish to eat.
In order to survive, the birds needed a new home.
What Virginia officials have done to save the birds
Enter the Virginia Department of Wildlife Resources (DWR). Biologists and wildlife experts knew they had to take on a massive project to save these birds.
So, Virginia's largest conservation effort began.
That year, then-Governor Ralph Northam called on the department leaders to find an alternative nesting location for the colony before the birds returned in the spring. That gave DWR biologists only three months to create this new home.
They found Fort Wool, a now-decommissioned Civil War-era military installation. Fortifications and buildings left over from the island's time in the Army's harbor defense still remained on the 15-acre island, according to the DWR report.
For the past three years, thousands of birds called Fort Wool home, thanks to the efforts of maintaining the piece of land.
DWR Executive Deputy Director and wildlife conservation expert, Becky Gwynn, said she always stares in awe at the Rip Raps Island each time she visits. This project is her baby, as she likes to say. Her passion lies in the success of these birds thriving in their new home.
"There are as many as 25,000 animals here," Gwynn said as she peered through her binoculars. "These birds don't want to try to be moved over to the Eastern Shore. We would be unsuccessful if we tried to do that. We have the opportunity for this colony to nest and it is Virginia's largest seabird colony."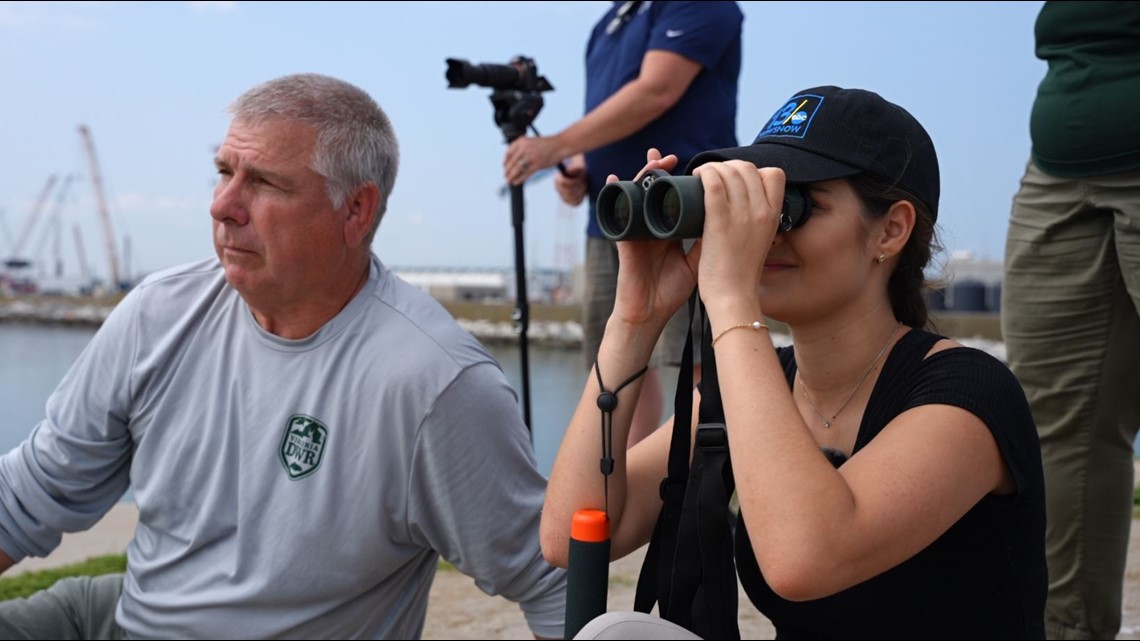 On the island where chicks are now born to add to the colony, tree roots crack through the cement ground. The biologists even created a beach-like area for the seabirds to nest, since that is what they naturally do.
Despite the concrete ground where dozens of nests now sit, this spot is not permanent.
Time is of the essence, as some species are seeing fewer birds return to Fort Wool. It's a sad reality Gwynn hopes to fix with a more suitable environment.
So, the conservation experts worked to create another acre of habitat by anchoring flat-top barges in the embayment between Rip Raps Island and South Island. It will expand the areas for the birds to nest without interfering too much with one another.
This is a project DWR Regional Wildlife Manager, David Norris, considers his passion project.
"We moved these birds from South Island. The birds were nesting over there when the construction was taking place," Norris pointed out to our 13News Now crew as we took a boat for a rare look at the island.
DWR wildlife biologists reported by the time the seabird colony left Fort Wool to fly south for the winter in 2020, they estimated as many as 6,000 chicks had hatched. It was a sign of hope that they were taking on the right strategies.
"This is really just heartwarming to see all these birds here to see how successful they are," said Gwynn. "It really is a conservation success story in the most amazing sense."
Despite temporary solution, an island for the birds is needed
Despite this conservation success, even this effort is not enough, both Norris and Gwynn explained.
It's why their department is working with the U.S. Army Corps of Engineers, Virginia Department of Transportation, and several other agencies to create a new, permanent island for these birds.
Gwynn, Norris and their team are developing a plan to create the permanent island somewhere in the lower James River and Chesapeake Bay.
This island would create a safer space for these birds, away from construction crews and other species threatening their livelihood.
"I have a large to-do list on my wall, and it has one item... 'build an island,'" Gwynn said with a laugh. "Because we get one chance to do it right and we want to do it well."
This project won't be easy, Gwynn explained. This effort will take a few years. Construction is expected to begin in 2025 with the help of federal grant money.
Until then, Gwynn will do her weekly check-ins with her team to ensure the thousands of birds still live a healthy life on Fort Wool, their safe summer space.
13News Now has a special behind-the-scenes look of our filming of Rip Raps Island at Fort Wool. It's a rare look at the seabird colony currently living there. Stream it for free on our 13News Now+ app, which you can learn how to download on Roku or Amazon Fire TV here or watch it on our Youtube Channel below: