NORFOLK, Va. — Pharrell Williams took the stage at Norfolk State University Thursday night for his "Elephant in the Room" forum.
He sat alongside corporate leaders and spoke to local business owners about how to help Norfolk and Virginia Beach reach their full potential.
"You don't have to agree with everything, but you do agree on the fact that we are Virginians and you do agree in the fact that we want to rise and the only way we can do that is to do that with each other," Pharrell told the crowd.
He says the group on stage collectively manage about $3 trillion.
"This is about them having a cheat sheet for them to see what would make these big financial institutions want to come and invest money not only in our communities but also in our businesses," he told 13News Now before the event.
The three-part forum focused on who we've been, who we are and who we'll become in Hampton Roads.
"We need to stop the brain drain because for every person who has talent and ability who's from here who leaves, you have to bring somebody in," said Dr. Cassandra Newby-Alexander with NSU.
Another panelist says his company believes it's all about who you invest in.
"Find ways to invest in businesses and projects that are owned and operated by people of color."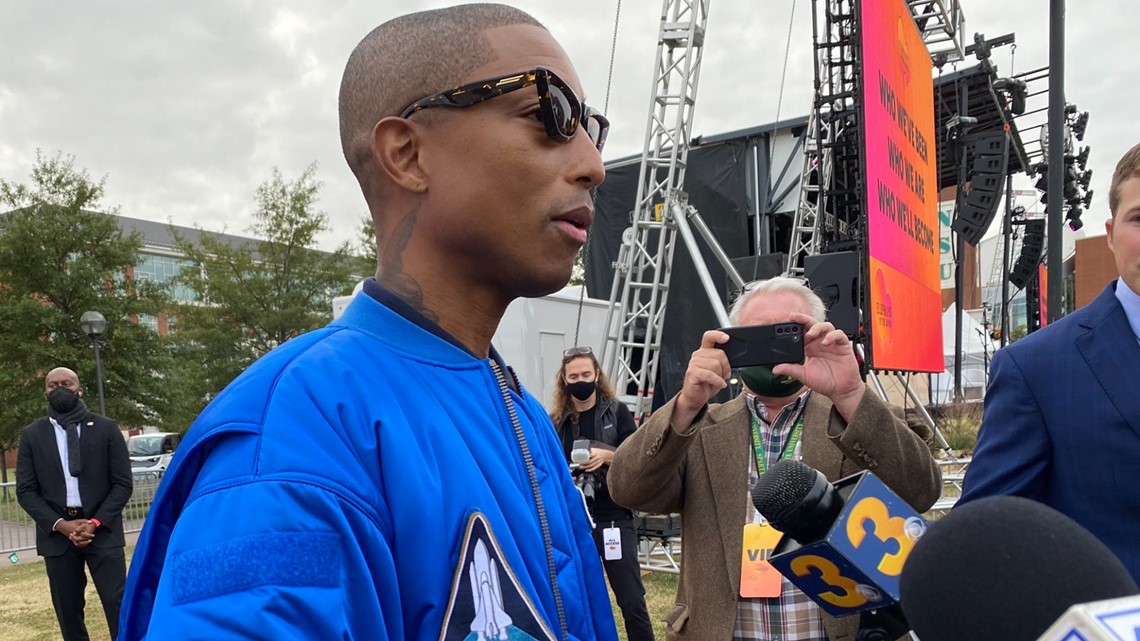 On Good Morning America, Pharrell said he put the forum together to give the 757 a boost.
"Some of the biggest financial institutions in our country -- you know it'll be a group that essentially, collectively, manages about $3 trillion," Pharrell said. "I wanted that to happen so they could explain, and have dialogue, with the business owners here to talk to them about what would make our area, our whole entire MSA more attractive, for them to want to come invest in our communities and our businesses here."
He's also put his name in the hat to restore the Military Circle Mall in Norfolk.

This visit and forum come on the heels of Pharrell saying he might pull the Something in the Water Festival out of Virginia Beach.
In a letter exchange with City Manager Patrick Duhaney, Pharrell said he wanted to have the festival in his hometown initially to ease racial tension and unify the region. However, he said he was disappointed with the city's response to the death of his cousin, Donovon Lynch.
In the letter, he also said the city of Virginia Beach has "toxic energy."
Conversations are ongoing about the festival, for now.
"Politics. Politics is what drove it away," Pharrell said. "I just want to give and I want to help and you know, that was a toxic situation that was very hurtful to me and my family and we just want to move past that."
He says this forum is about putting profit over politics and its way of showing that he hasn't given up on his hometown.
"This is a direct demonstration of faith right here. This is… I don't know how to lean in any harder," he said. "Let's talk to these people, let's listen to what they've got to say and then we can see some change. That's how we heal."
Pharrell also told us that this forum was born out of a very political moment, but this is not about politics. He says building businesses up is not about red or blue, it's all about the green.