RICHMOND, Va. — Political leaders, organizations and many others locally and nationally have made remarks about a racist yearbook photo under the Governor of Virginia's name. The photo shows one person in blackface, and the other in a Ku Klux Klan outfit.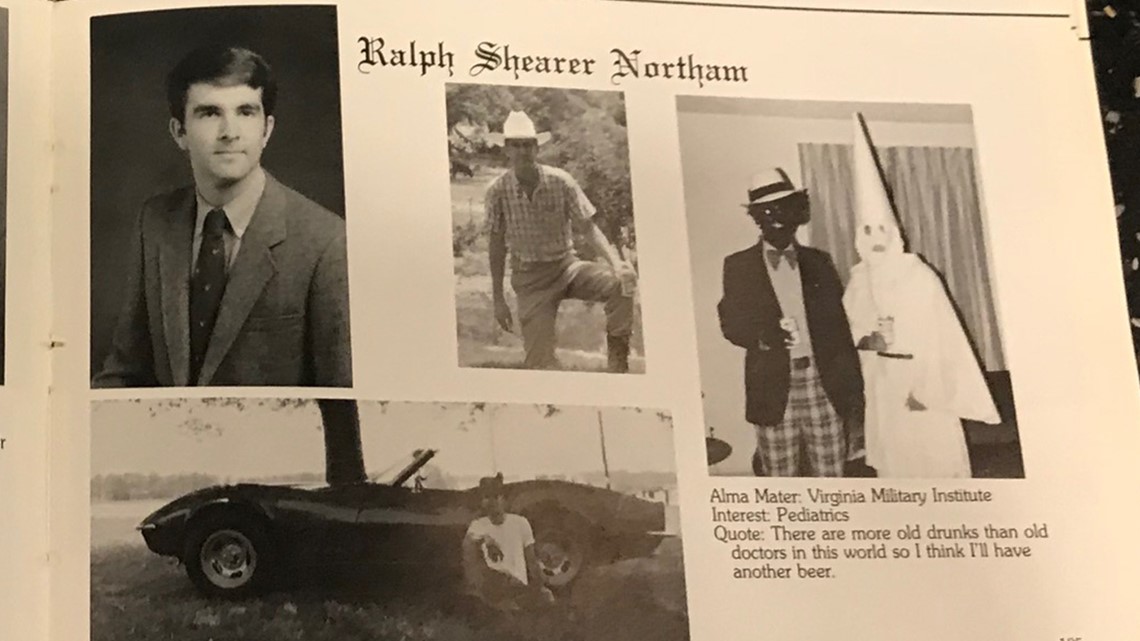 Gov. Ralph Northam acknowledged he was in the pictures that appeared in the Eastern Virginia Medical School yearbook on Friday. However, on Saturday he backtracked and said it wasn't him.
SATURDAY:
Virginia Lt. Gov. Justin Fairfax broke his silence Saturday afternoon regarding Governor Ralph Northam's yearbook scandal. He released a full statement about how shocked and saddened by the image.
U.S. Senators and former governors of Virginia Mark R. Warner and Tim Kaine along with Congressman Bobby Scott released the following statement on Saturday:
"After we watched his press conference today, we called Governor Northam to tell him that we no longer believe he can effectively serve as Governor of Virginia and that he must resign. Governor Northam has served the people of the Commonwealth faithfully for many years, but the events of the past 24 hours have inflicted immense pain and irrevocably broken the trust Virginians must have in their leaders. He should step down and allow the Commonwealth to begin healing."
Another former Virginia governor, Douglas Wilder, tweeted on Saturday that Northam had no choice but to leave office.
The Virginia Attorney General Mark Herring released a statement on Saturday and said Northam should step down. His full statement:
"It is no longer possible for Governor Northam to lead our Commonwealth and it is time for him to step down. I have spoken with Lieutenant Governor Fairfax and assured him that, should he ascend to the governorship, he will have my complete support and commitment to ensuring his success and the success of our Commonwealth."
The President of EVMS released a statement apologizing for the racist yearbook page. President Homan had no explanation for how that type of picture was able to be published in the past. He promised that EVMS would continue to build a culture of diversity and inclusion.
The national NAACP stands by its call for Gov. Northam to resign:
"We are deeply disappointed in Gov. Ralph Northam decision to not resign today. His failure to take accountability for his actions is sickening. He says he used shoe polish on his face to mimic Michael Jackson, yet denies he ever used black face. This is unacceptable for any leader. He contradicts his earlier decision to admit responsibility to now say he had nothing to do with the photo. Implicit bias is bias, and it's clear that someone who cannot distinguish from using shoe polish on his face to imitate a Black person from black face, clearly suffers from this or is delusional. This image is example of the historical effects of institutional racism and the lack of awareness of the discrimination against of Black people. Racism of any kind cannot be excused nor overlooked. We stand by our call for his resignation. He will now have to answer to his constituents in Virginia who will find it difficult to make peace with his choice."
The President of the Norfolk Branch of the NAACP stood with the national NAACP and the Virginia State Conference NAACP by calling for Northam's resignation immediately.
The Virginia House of Delegates Speaker Kirk Cox, Majority Leader Todd Gilbert, Caucus Chairman Tim Hugo, and Majority Whip Nick Rush released the following statement Saturday:
"When the racist picture first emerged Friday, we were shocked and repulsed. The photo is disturbing and offensive, as unacceptable in 1984 as it is today.
"We withheld judgement last night while awaiting an explanation from the Governor believing the gravity of the situation deserved prudence and deliberation.
"We agree with the powerful words of our colleagues in the Virginia Legislative Black Caucus and believe that because of this photo the Governor has lost the confidence of the citizens he serves.
"While we respect the Governor's lifetime of service, his ability to lead and govern is permanently impaired and the interests of the Commonwealth necessitate his resignation."
The Chairperson of the State Governing Board of Virginia Organizing released the following statement calling for Northam's resignation:
"We believe in the ability of people to grow and change. We have seen it countless times in our Dismantling Racism Workshops and in the relationships we have built across the state. After considering Gov. Northam's actions and apologies, we believe the reflection and internal work to make that change possible is best done as a private citizen and not in the state's highest office. Gov. Northam should resign.
"While we have counted Gov. Northam as an ally and champion on many of the pressing issues facing Virginia, Gov. Northam owes us more than inadequate apologies. He owes us action. Gov. Northam should take a step back from trying to save his political career, spend time learning from the people of color his actions have hurt, and make clear how he will grow and change from this experience.
"Virginia has a long history of systemic racism—history that reveals itself still today in our systems, institutions, and laws. As a statewide non-partisan grassroots organization, we will continue the important work of deep organizing for racial justice—bringing people together to build a more just Virginia."
FRIDAY:
In a statement, Congressman Bobby Scott said:
"It is never easy to condemn a personal friend, but Governor Northam's past behavior is indefensible. I know the Governor has dedicated his life to public service, and he has advanced policies to help African Americans and Virginians from all walks of life. I take him at his word that he is deeply sorry, and that he understands that his behavior was inappropriate and offensive. History will have to judge his life and public record, and this chapter will be a major stain on that record. The Governor must now make the right decision that is best for the Commonwealth of Virginia."
The National Education Association President Lily Eskelsen-Garcia and the Virginia Education Association President Jim Livingston made the following joint statement:
"There is no place for Gov. Ralph Northam's racist actions. Both NEA and VEA strongly condemn them. This goes beyond political affiliation. We must set a better example for our students. The public must have trust and confidence that their elected officials will fight for them, and that trust has been irreparably damaged. Ralph Northam should resign."