PORTSMOUTH, Va. — There's a saying that the wheels of justice turn slowly. But in some cases, the wheels don't turn at all.
We wanted to know how often these types of cases are collapsing in court.
13News Now Investigates spent months filing public records requests, talking with sources and creating a database that tracks hundreds of homicide arrests across Hampton Roads to learn more about the struggle with prosecuting some cases.
Our investigation found families, police, and prosecutors in several cities relentlessly fighting for the truth.
Families of murder victims still chasing justice
Katina and Malaysia Plummer never miss their brother's birthday.
This year, they brought flowers and balloons to John Plummer's gravesite ahead of what would have been his 39th birthday.
"This is where we have to come to celebrate him," Katina said. "His birthdays, holidays, Christmas. This is what we have of him."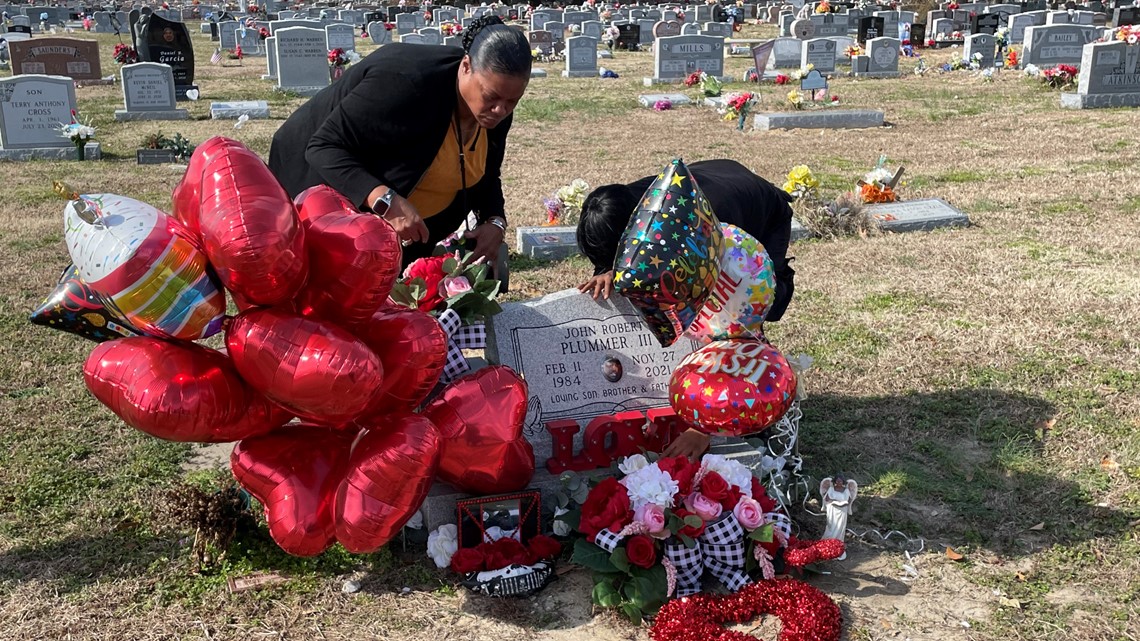 His sisters say it was a case of being in the wrong place at the wrong time, and that John was shot while breaking up a fight.
Detectives identified four persons of interest and charged one of them with murder. But this past December, the prosecution hit a wall.
"They couldn't get in contact with the witnesses. And some of them refused to speak," Katina said.
Prosecutors didn't have a strong case without that witness testimony.
In the court of law, the Plummer case is now a Nolle Prosequi, which is Latin for "we will no longer prosecute." Charges can be brought back in the future, but for now, the suspect walks free.
"It was like your heart breaking into a million pieces," Malaysia said.
13News Now's investigation found the problem of witness cooperation is not unique to one case or to one city here in Hampton Roads.
In fact, we found that 61 murder cases over a four-year period ended with no suspect behind bars. That's 61 families still chasing justice.
Hampton Roads homicide cases by the numbers
13News Now filed public records requests for a complete breakdown of murder cases across the seven cities. When we were told the records didn't exist, we sifted through years' worth of arrest data and built our own database.
Then we researched what happened with each case in either General District or Circuit Court using online court records, and then we cross-checked the data with local Commonwealth's Attorney's offices.
We found that 297 adults were arrested for homicides across Hampton Roads between 2018 and 2021.
Of those cases, 102 are still active, and 195 have concluded in some way.
Of those 195 settled cases, we found 134 (69%) ended with a conviction, and 61 cases (31%) either ended with a "not guilty" verdict or the cases were dismissed or nolle prossed.
"Well, it's clear that we're working hard," Portsmouth Commonwealth's Attorney Stephanie Morales said.
"One thing that I can see when I look at the numbers for our city and other cities is that everyone has their head down and is trying their best to get the work done."
Even so, one-third of the cases that made it to court ended with an unsolved murder.
Conviction rates vary by city
13News Now's research found Commonwealth's Attorneys in the seven cities varied in both their conviction rate and how they attained those convictions.
Some cities, like Portsmouth and Hampton, excelled with jury trials. About 83% of jury trials in Portsmouth ended with guilty verdicts, according to our database.
"When we have witnesses, and we have evidence, and we go to trial, we are mostly successful," Morales said.
Other cities, like Chesapeake and Virginia Beach, did better with securing guilty pleas.
Norfolk prosecuted 104 homicide cases between 2018 and 2021, which was the most of all seven cities. Newport News and Virginia Beach followed with 51 and 45, respectively. Suffolk prosecuted just three murder cases during that time, and all three ended with guilty pleas.
Portsmouth had the lowest conviction rate, which came in at 56%.
Morales points to victims and witnesses who are unwilling to testify in court.
"We have some witnesses of violent crime who live in community with people who they have observed commit these crimes, so their fear is not unwarranted. It's a real fear," Morales said.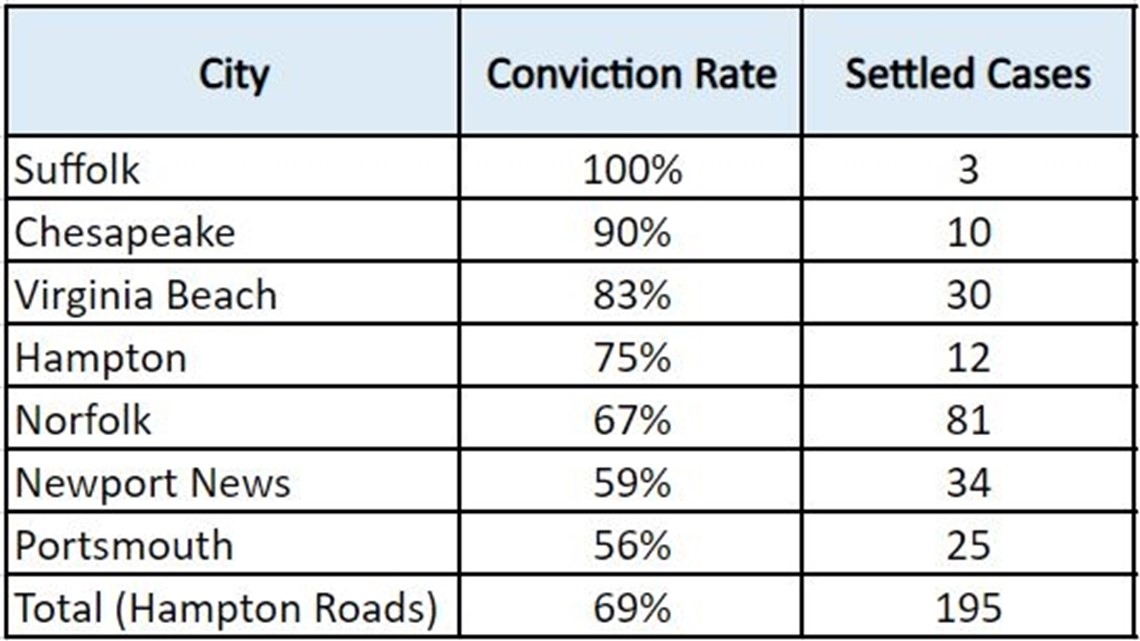 Stonewalled witnesses shows need for protection, prosecutors say
Morales is calling for a funded witness protection program in Virginia.
Governor Glenn Youngkin budgeted for it, and the General Assembly could soon vote on it. A source with knowledge of the budget said there was $5 million earmarked for the program in the latest version of the House budget.
Norfolk Commonwealth's Attorney Ramin Fatehi has long advocated for the witness protection program to receive funding from Richmond.
"It would put prosecutors and police officers in a position to answer a witness's question, 'What can you do to protect me? What is out there to offer me safety if the people who committed this crime that I witnessed come after me?'" he said.
"Ethically, I wound up in a position where it would be unethical for me to go forward," Fatehi said about the case.
Data from 13News Now's investigation shows the struggles with prosecuting homicides are not unique to just one city. Norfolk's 67% homicide conviction rate is in line with the Hampton Roads average of 69%.
"We as prosecutors can only play the cards we have, and the witnesses offer us the cards," Fatehi said. "The number one thing that would improve the solve rate is for individuals who see something to say something."
Stonewalled witnesses can explain some of the 33 cases that were nolle prossed across Hampton Roads over the four years we researched, including the Plummer case in Portsmouth.
But that's not always the reason.
In Newport News, four out of five cases nolle prossed lacked sufficient evidence. In Norfolk, one case was nolle prossed when evidence supported a claim of self-defense. And in Virginia Beach, we found murder charges nolle prossed for two different defendants who later pleaded guilty to lesser charges.
As for the issue of witness cooperation, detectives may not know until the day of a court proceeding that a witness has changed their mind and will not show up.
Portsmouth Police Department Spokesperson Victoria Varnedoe told 13News Now that these occurrences emphasize the need for a "robust witness protection program."
"Situations like this are deeply frustrating to the investigators, the prosecuting attorneys, and the families who are desperately seeking justice," Varnedoe said.
Meanwhile, Katina and Malaysia Plummer continue to look for answers.
The sisters are holding out hope that charges will be brought back in their brother's case, and that witnesses will ultimately choose to testify.
"I'm still a little hopeful that we're going to get justice," Katina said. "And that's what we're fighting for, for our brother. And we're not gonna stop."
Portsmouth police say the Plummer case is still an active and ongoing investigation, and that detectives continue to search for more evidence and witnesses.
About our methodology:
We looked at every suspect arrested for homicides that occurred between January 1, 2018, and December 31, 2021, in the seven cities.
We excluded the following from our numbers:
Vehicular homicides
Homicides involving juvenile victims
Homicides involving juvenile suspects
Suspects who have since died
We included in our numbers suspects who were later charged as accessories.
We then looked up each individual name to learn their case resolution in Circuit Court. If there was no record there, we looked up the case resolution in General District Court. We then gave each Commonwealth's Attorney the opportunity to review our findings for accuracy.
The results were as follows:
297 individuals arrested
102 active cases
84 guilty pleas
46 guilty by jury trial
17 not guilty by jury trial
18 nolle prossed in General District Court
15 nolle possed in Circuit Court
6 dismissed
4 guilty by bench trial
4 not guilty by reason of insanity
1 mistrial