VIRGINIA BEACH, Va. — City officials expect tens of thousands of people to attend the 2023 Something in the Water music festival this weekend at the Virginia Beach Oceanfront.
Performances were expected to kickoff just after noon Friday, but like the inaugural SITW festival in 2019, Mother Nature had other plans. Rain and strong wind gusts caused organizers to announce a weather delay, but performances kicked off about five hours late during a break in the rain Friday evening.
Follow 13News Now's live coverage of the festival here all weekend long. Our meteorologists will keep you updated on the latest weather conditions at the oceanfront, and our reporters will show you what's happening in and around festival, including any changes to the music lineup and set times.
11:45 a.m. — SiTW posts about how people can retrieve items left in lockers
SITW has announced on their mobile app that all items in lockers are being moved to their Lost & Found location and people can go pick stuff up today by 2 p.m..

The post says: "Lost and Found is open until 2PM today for anyone that wants to come in-person. The best access is 6th street. Any items left in festival lockers are being transitioned to Lost and Found.

"For more information or virtual Lost and Found patrons can visit https://somethinginthewater.liff.app/"
8 p.m. — Pharrell thanks those who came to the festival
"We are the best," Pharrell wrote. "These past few days at SOMETHING IN THE WATER have been the best. Even during this Tornado Watch and Lightning Storm right now as I type, we are the best. Thank you for giving the folks that travel here that energy and that LOVE that only we can give. Thank you to our partners, the vendors, production, policemen, firemen, the city council, the mayor and all who volunteered. The spirit here was felt everywhere!"
Pharrell added that organizers will shift the dates of the festival next year because of the rain.
7:20 p.m. — Refunds
After Day 3 of Something in the Water was canceled, festival organizers sent out an update saying a "33% refund of the base price from admission passes" would be issued, beginning Monday, May 1. The refund process will take approximately 14 days to complete.
6:10 p.m. — Sunday is canceled!
Something in the Water is canceled for Sunday.
You can read the full story HERE:
The following statement was issued by the City of Virginia Beach:
City of Virginia Beach Statement Regarding Decision to Cancel Sunday Evening Something in the Water Activity
VIRGINIA BEACH, Va. (April 30, 2023) – Following several calls and meetings today with the National Weather Service, festival organizers and in consultation with our emergency management leadership, the City of Virginia Beach has made the decision to cancel evening festival activity on Sunday, April 30.
It was determined with high confidence that severe weather storm warnings tonight would impact the safety of all festival areas throughout this evening. Weather conditions today have already included multiple lines of storms with heavy rain, strong winds, small craft advisories and lightning. These conditions are anticipated to continue throughout the night, which also make festival logistics and public safety planning extremely difficult. The City of Virginia Beach considers the tornado warning issued at 5:47 p.m. to be extremely hazardous to the safety and well-being of event attendees and staff.
"No one wants to make this call, but we cannot predict nor negotiate with the weather tonight. It is our responsibility to ensure public safety above all else," said City Manager Patrick Duhaney. "The City thanks the Something in the Water team, our public safety teams and City staff for their hard work this weekend under fluctuating weather conditions, and we appreciate everyone's understanding of this difficult decision."
5:50 p.m. — Severe Thunderstorm Warning
A Tornado Warning has been issued for Virginia Beach until 6:15 p.m.
The National Weather Service said at 546 PM EDT, a severe thunderstorm capable of producing a tornado was located 7 miles northeast of Kempsville, moving northeast at 30 mph.
5:25 p.m. — Severe Thunderstorm Warning
The National Weather Service has issued a Severe Thunderstorm Warning for the City of Virginia Beach, which will last until 6 p.m.
4:20 p.m. — Another line of storms on the way
In a now-deleted tweet, Pharrell asked "Who is ready for Day 3" of Something in the Water.
It was probably taken down for good reason: 13News Now meteorologist Evan Stewart said not to expect the festival to begin any time soon.
"Next line [of storms] is moving in, and it's stronger than this morning, with warnings."
If Day 3 isn't rained out entirely, Stewart said it won't be until after this current batch of storm moves through, likely after 7 or 8 p.m.
12:30 p.m. — The rain is coming down at the oceanfront
10:45 a.m. — SITW announces Sunday delays because of weather
Festival organizers have announced that "due to the latest severe weather forecast from the National Weather Service," both Something in the Water and the Pop-up Church Service have been delayed until further notice.
Organizers said they will continue to provide updates in the SITW mobile app and will let festival attendees know when gates open.
The festival lineup and set times schedule was removed from the SITW app Sunday morning and replaced with a "Stay tuned!" message.
9:15 a.m. — Bad weather threatens Sunday SITW activities
Strong storms will likely roll through the area beginning shortly after noon, threatening both the popup church services scheduled to take place between 1 and 8 p.m., as well as afternoon musical performances.
On the brighter side, 13News Now meteorologist Frances Peyton says that the storms will be over by early evening, so the festival should be able to wrap up tonight on a high note!
12:15 a.m. — Pharrell closes out day 2 with 'Get Lucky'
Pharrell ended the day two of Something in the Water with a performance of his song "Get Lucky."
Shortly afterwards the SITW mobile app sent a notification to festival attendees that storms were approaching the area and encouraged folks to take shelter indoors.
Many festival goers could be seen leaving the festival grounds while Pharrell was still in the final minutes of his performance.
11:50 p.m. — Chris Brown is Pharrell's second surprise guest
Chris Brown joined Pharrell on stage as the second surprise performer for the "Pharrell's Phriends" set.
By this point in the set, A$AP Rocky, De La Soul and M.I.A. have all performed and the set is nearing its end. with just about 20 minutes left, it's unclear if any more surprise guests will show up.
11:05 p.m. — Diddy arrives as Pharrell's first surprise guest performer
Diddy joined Pharrell and Busta Rhymes on stage as the first surprise performer for the "Pharrell's Phriends" set.
A$AP Rocky, De La Soul, M.I.A. and other surprise guests are still expected to join the performance.
10:45 p.m. — Pharrell takes the stage at Something in the Water
After a coordinated drone light show in the sky about the festival, Pharrell took the Solar Stage for the highly anticipated Pharrell's Phriends performance.
Busta Rhymes was the first sepcial guest to join Pharrell on stage and gave shout outs to Virginia Beach, Norfolk, Hampton and Richmond before saying he got his first drivers license in Virginia.
Coi Leray, who performed earlier in the day on the Solar Stage, also came out to perform a song with the group.
Photos from Something in the Water 2023: Pharrell, Lil Wayne, Summer Walker headline beachfront festival
8 p.m. — STIW Saturday lineup inches closer to final few acts
Just a few performances remain Saturday evening, as anticipation grows for the suprise guests Pharrell Williams will perform with in the headlining act. Other notable performers Saturday were Coi Leray, The Kid Laroi and the Jonas Brothers.
Here's a look at the remaining performances for the evening.
Lil Yachty, 7:40 p.m. to 8:30 p.m.
Summer Walker, 9:05 p.m. to 9:50 p.m.
Pharrell's Phriends, 10:45 p.m. to 12:15 a.m.
Machine Gun Kelly, 8:25 p.m. to 9:15 p.m.
Lil Wayne, 9:45 p.m. to 10:45 p.m.
3 p.m. — SITW attendees eagerly anticipate surprise "Pharrell's Phriends" performers
One of the biggest mysteries of the festival is who will join Pharrell on stage tonight for the headlining "Pharrell's Phriends" performance.
Many people have said that was the highlight in 2019 when musicians like Jay-Z and Snoop Dog surprised the crowd.
We know ASAP Rocky and Busta Rhymes are two people Pharrell is planning to bring out, but it's been a guessing game of who else he's planning to have.
Today, festival attendees told 13News Now who they were hoping would show up. Drake, Jay-Z, Snoop Dog, Rihanna, Future, Nicki Minaj and Beyonce were all popular guesses.
1 p.m. — Locals and tourists alike flock to SITW Day 2
In a matter of seconds, the second day of Something in the Water saw an empty beach filled with thousands of people.
Locals from all over Hampton Roads and nearby areas of Virginia were in the crowd, including people from Charlottesville, and Washington D.C. However, people from much farther came by to check out the Virginia Beach Oceanfront.
13News Now met a couple from Columbia, South Carolina, another couple from Myrtle Beach, South Carolina, two separate people from New York City, a couple people from North Carolina, and someone all the way from Los Angeles, California.
12:30 p.m. — Saturday set times updated for SITW 2023
The opening acts for the second day of the Something in the Water festival have changed slightly, according to the official lineup in the festival's official mobile app. And set times for the final two acts of the night have also shifted.
Ayra Starr and Flo were removed from Satuday's schedule altogether, and two performers who didnt' get to perform Friday, GiGi Perez and Black Sherif, were added Saturday's lineup.
Times for the first performances of the day appear to be changing in the SITW app, but the night will end with Lil Wayne on the Lunar Stage at 9:45 p.m. and Pharrell's Phriends headlining on the Solar Stage beginning at 10:45 p.m.
12:30 p.m. — Festival gates officially open for Day 2
Festival gates opened to attendees around 12:30 p.m., about 30 minutes later than originally planned.
12:00 p.m. — Start of SITW Day 2 delayed
Something in the Water organizers announced that impacts of overnight weather on the festival site are causing a slight delay in SOMETHING IN THE WATER kicking off for day two events.
"We are working quickly to resolve this issue," the notification said.
9 a.m. — Volunteer event clears trash from beach at SITW
Coastal Edge and SurfRider Foundation started the second day of Something in the Water by serving the community through "Something in the Water, Nothing on the Beach." Saturday morning, volunteers searched for plastic bottles, bags and other trash hoping to prevent it from getting into the ocean.
Volunteers started cleaning around Coastal Edge on 21st Street before heading to the beach. Enriquez said at the first Something in the Water festival in 2019, they helped to remove 520 pounds of trash from the area.
Read the full story here, and catch the video report on our Something in the Water special tonight at 6 p.m. on 13NewsNow+, our streaming app on Roku and Amazon Fire TV.
8 a.m. — Warmer, drier weather expected for SITW Day 2
Festival attendees on Saturday can expect partly sunny skies, warmer temperatures and mostly dry weather conditions. 13News Now meteorologists say the UV index will be pretty high, too. So, lather on the sunscreen!
11:30 p.m. — Day 1 of the festival wraps up
It's a wrap on Day 1 of "Something in the Water."
The festival may have had a rocky start because of a weather delay, but once conditions cleared out in the afternoon, eager festivalgoers made their way inside, enjoying the musical acts, food, drinks and activities.
Attendees told 13News Now that they looked forward to seeing headliner Kid Cudi, along with the other Friday acts like Maren Morris, Jazmine Sullivan and Third Eye Blind.
6 p.m. — First SITW perfomers take the stage
The first performers for Something In The Water 2023 took the stage at 6 p.m., with Babyface Ray on the Lunar stage at 5:05 p.m. and Jazmine Sullivan on the Solar Stage at 6 p.m.
If all goes as planned, Arcade Fire, Doechii, Polo G, Kenny Beats, Skrillex and Kid Cudi will perform tonight on the Solar Stage.
Maren Morris, Third Eye Blind, Wale, Kehlani and Mumford & Sons are all scheduled for the Lunar stage.
5 p.m. — SITW attendees enter festival gates, make their way to the sand
Gates opened at 5 p.m. and hundreds of attendeds started making their way through the festival's four entrances at 14th, 10th, 8th and 6th streets.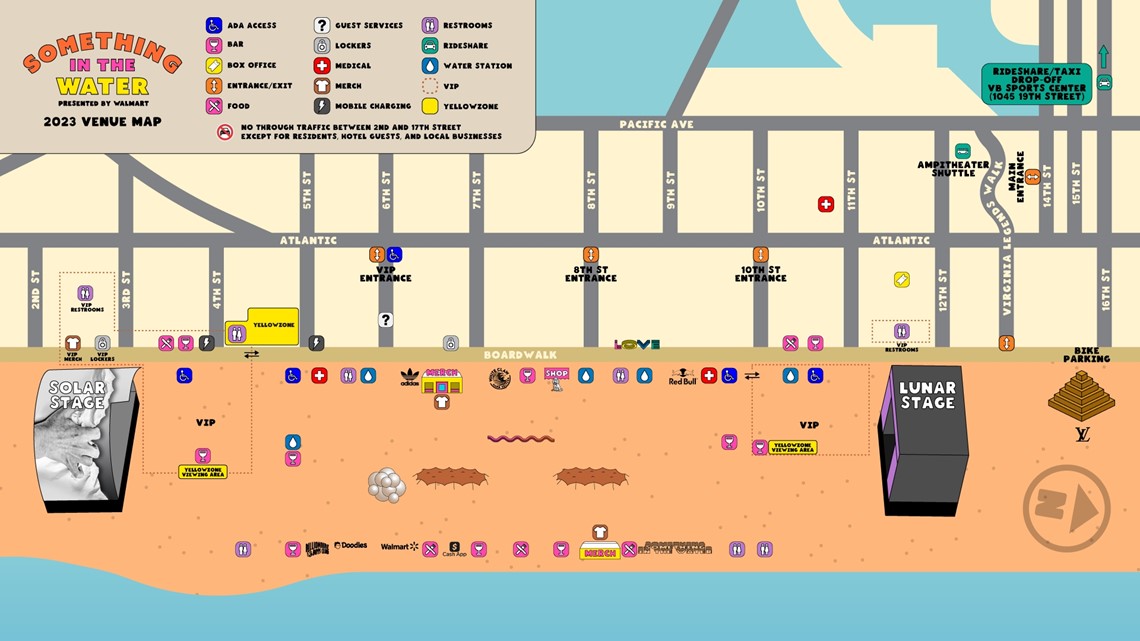 4:45 p.m. — Long lines form at main and VIP gates, as artists begin sound check
Hundreds of people were waiting in line at the main festival gates on 14th Street and the VIP entrance at 6th Street.
On the beach, artists are doing sound checks on the Solar Stage.
The updated Something in the Water Friday lineup and set times are now posted on the SITW website. At this point, Kid Cudi and Mumford & Sons are still set to close out the festival tonight.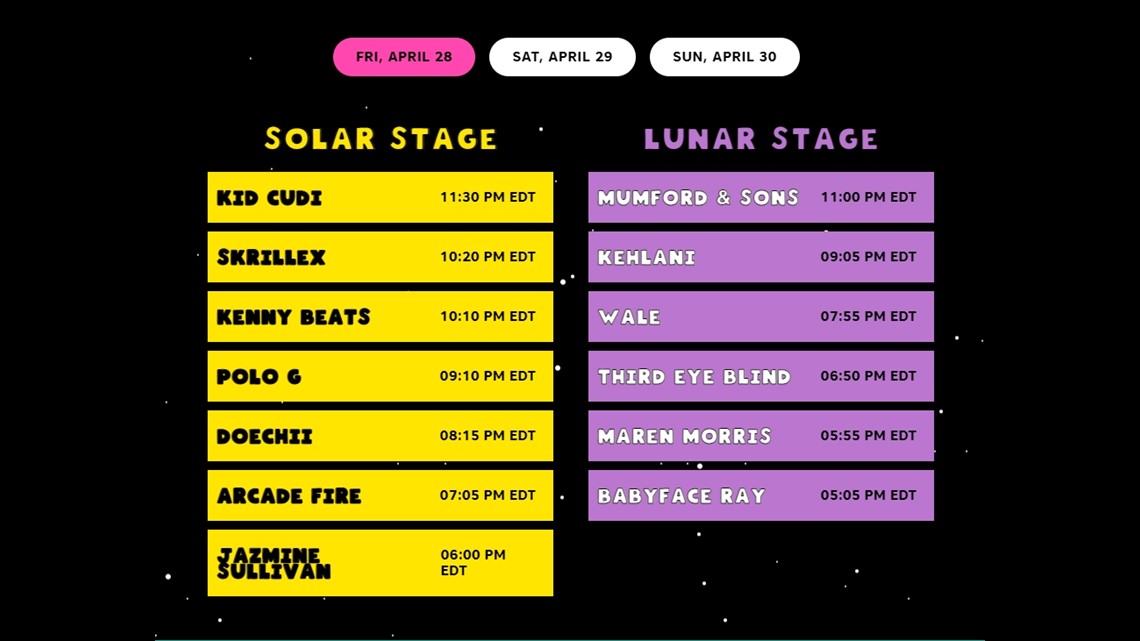 3:45 p.m. — Something in the Water 2023 to open festival gates after weather delay
The 2023 SITW music festival will officially kick off at 5 p.m., when gates will open to the festival grounds, according to an update on the Something in the Water mobile app and website.
The festival website also said shuttles to the oceanfront will begin operating at 4 p.m. from the Veterans United Home Loans Amphitheater.
3:30 p.m. — Something in the Water set times shift for Friday perfomances
Changes to set times for main stage performances are slowly appearing on the Something in the Water mobile app.
Jazmine Sullivan was scheduled to perform at 4 p.m. Friday, but her set time has shifted to 6 p.m.
YvngxChris, who was originally to perform at 1 p.m. Friday, shared on social media that he will perform Sunday.
3:20 p.m. — SITW community stages to open soon
Festival organizers say the Something in the Water community stages along the oceanfront will open to performances around 4 p.m. However, main stage acts are still delayed until further notice.
There are three community stages along the oceanfront at 17th, 24th, and 31st streets that are free and open to the public.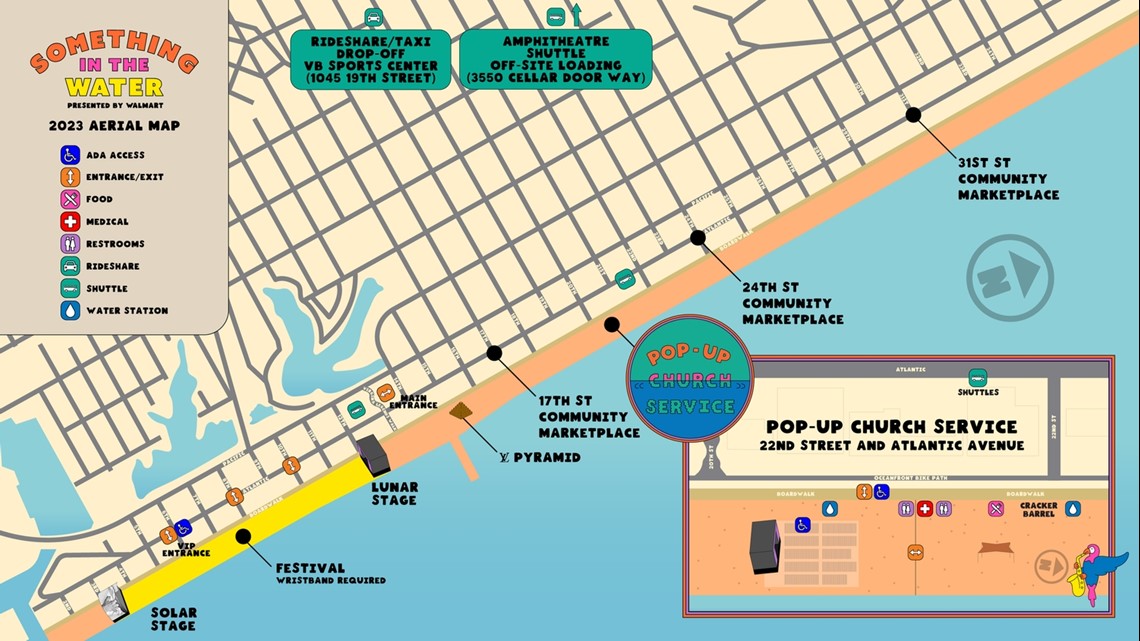 12:15 p.m. — Shuttles to oceanfront delayed for SITW 2023
With the festival's opening delayed, so too, are shuttles meant to ferry people from the Veterans United Home Loans Amphitheater down to the Oceanfront.
The shuttles were supposed to begin at noon and run throughout the day, but as of 12:15 p.m. Friday, the parking lot at the amphitheater remains empty.
Parking for shuttle pass holders is supposed to open daily at 11 a.m. The last shuttle leaves the festival site one hour after the music ends each night.
According to a Virginia Beach City spokeswoman, the festival is using tour buses and Virginia Beach City Public Schools for shuttles throughout the weekend.
9 a.m. — Weather delays Friday kickoff for Something in the Water festival
Organizers for Something in the Water announced Friday morning that festival gates would be delayed in opening "until further notice" due to rain and wind gusts.